The colluvio Master Classes at Gut Hornegg, Austria (22th July – 1st August 2024) culminate in an international concert tour. The programme to be played on the tour will be studied during the Master Classes.
"One can hear a pin dropping."
IMPRESSIONS FROM THE 2023 SUMMER TOUR

Felix MENDELSSOHN-Bartholdy
Piano Quartet, No. 3, op. 3, 3. movement: Allegro molto
Tabea Streicher (18), Naz İrem Türkmen (17), Nađa Komlenić (17), Owen Sørbye Davis (17)
Final concert of the 2023 tour, Belgrade
Here you can find the WHOLE VIDEO with all movements.
Expected CONCERT TOUR 2024
2nd August 2024, 07.30 p.m.
Austria, Styria, A-8504 Preding
Former Mews of Gut Hornegg
---
3rd August 2024, 09.00 p.m.
Slovenia, Metliški grad – Metlika Castle, Atrium
Imago Festival
---
5th August 2024, 08.30 p.m.
Slovenia, Municipial Museum – Mestni muzej, Gosposka 15
Imago Festival, Recorded by Radio Slovenija
---
7th August 2024, 08.00 p.m.
AUGSBURG, Peace Festival 2024
Germany
---
8th August 2024, 06.00 p.m.
Germany, Vortragsraum der Nachbarschaftshilfe, Schluchtweg 9b
D-82340 Feldafing at the Starnberg Lake
"Feldafinger Musiktage" – Artistic direction: Kit Armstrong
---
10th August 2024, 07.00 p.m.
Österreich, Schubert´s Birth House
Nußdorfer Str. 54, A-1090 Wien
---
12th August 2024, 07.00 p.m.
Hungary, Austrian Cultural Forum Budapest
Benczúr utca 16, H-1068 Budapest
---
14th August 2024, 07.00 p.m.
Serbia, Serbien, Ceremonial Hall of the Belgrade City Hall – Svečana sala Skupštine grada, Dragoslava Jovanovića 2

Recording and LIVE Broadcast by the Radio Television of Serbia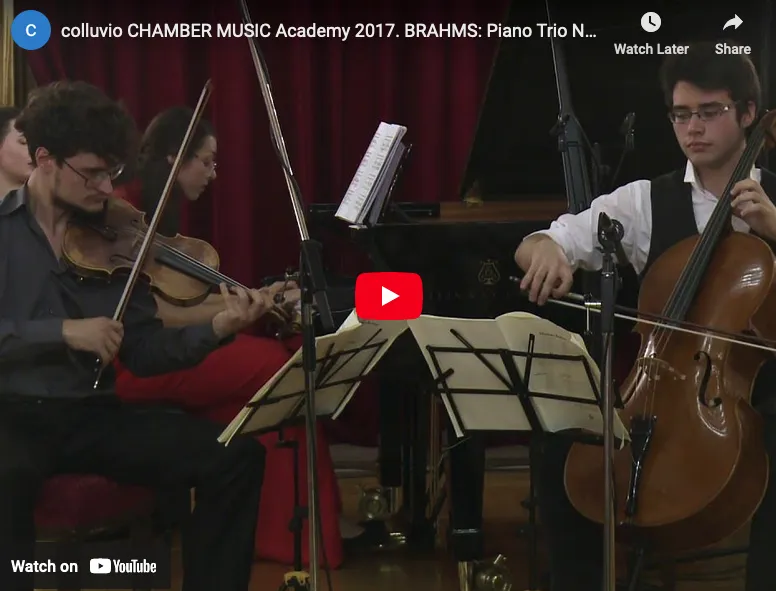 Johannes BRAHMS
Piano Trio op. 8, 2nd movement: Allegro molto – Meno allegro – Allegro molto
Final Concert of the 2017 tour, Belgrade
Elena Ovcharenko (21), David Horvat (19), Pavle Popović (19)
Here you can find the WHOLE VIDEO with all movements.
Programme 2024
"On the 100th anniversary of the death of GABRIEL FAURÉ"
(4. XII 2024)
Sonate pour piano et violon No. 1, La Majeur, op. 13 (1875-1876)
Quatuor pour piano, violon, alto et violoncelle No. 1, ut mineur, op. 15 (1876-1883)
Trio pour piano, violon et violoncelle, ré mineur, op. 120 (1923)
Quintette pour piano et quatuor à cordes No. 2, ut mineur, op. 115 (1919-1920)
colluvio 2024 is currently being announced. Following their auditions, the selected musicians will be announced at this point from 15 March 2024.
Review of 2023
The 2023 summer tour included the 3rd Piano Quartet by Felix Mendelssohn Bartholdy, the Piano Trio in E flat major, op. 70/2 by Ludwig van Beethoven and the 2nd Piano Quartet by Gabriel Fauré.
The 11 chosen musicians for 2023 – probably resounding names of tomorrow:
Piano: Tabea Streicher – Petar Krokar – Veronika Voloshyna
Violin: Naz İrem Türkmen – Anna Perl – Frédéric Pouliot
Viola: Nađa Komlenić – Elías Zaabi Sáez
Cello: Clara Eglhuber – Hyunah Pyo – Owen Sørbye Davis
---
Tours and concert programmes 1,2,3…..21 from former years
colluvio CONCERT TOUR 2023
Gut Hornegg – Metlika – Ljubljana – Feldafing – Vienna – Veszprém – Budapest – Belgrade
colluvio CONCERT TOUR 2022
Gut Hornegg – Vienna – Mertingen – Feldafing – Millstatt – Ljubljana – Budapest – Novi Sad – Belgrade
colluvio CONCERT TOUR 2021
Gut Hornegg – Vienna – Budapest – Cluj-Napoca – Timișoara – Kragujevac – Belgrade

colluvio CONCERT TOUR 2020
Gut Hornegg – Mürzzuschlag – Vienna – Prague
colluvio CONCERT TOUR 2019
Gut Hornegg – Villach – Mertingen – Feldafing – Vienna – Budapest – Lemberg – Belgrade
colluvio CONCERT TOUR 2018
Ptuj – Gut Hornegg – Vienna – Feldafing – Split – Banja Luka – Novi Sad – Belgrade
colluvio CONCERT TOUR 2017
Gut Hornegg – Vienna – Feldafing – Villach – Opatija – Banja Luka – Novi Sad – Belgrade
colluvio CONCERT TOUR 2016
Gut Hornegg – Vienna – Munich – Millstatt – Tar-Vabriga – Poreč – Sarajevo – Belgrade
colluvio CONCERT TOUR 2015
Gut Hornegg – Vienna – Munich – Senj – Makarska – Split – Belgrade
colluvio CONCERT TOUR 2013
Gut Hornegg – Vienna – Munich – Ljubljana – Omiš – Sarajevo – Belgrade
colluvio CONCERT TOUR 2012
Gut Hornegg – Vienna – Munich – Ljubljana – Split – Sarajevo – Belgrade
colluvio CONCERT TOUR 2010
Gut Hornegg – Vienna – Priština – Kosovska Mitrovica – Prizren – Belgrade
colluvio CONCERT TOUR 2009
Gut Hornegg – Vienna – Novi Sad – Kragujevac – Belgrade
colluvio CONCERT TOUR 2007 Summer
Gut Hornegg – Graz – Ljubljana – Munich – Vienna – Kecskemét – Timișoara – Belgrade
colluvio CONCERT TOUR 2007 Winter
Munich – Graz – Vienna

colluvio CONCERT TOUR 2005
Preding – Deutschlandsberg – Munich – Vienna – Sremska Mitrovica – Belgrade
colluvio CONCERT TOUR 2004
Preding – Graz – Munich – Vienna – Belgrade
colluvio CONCERT TOUR 2003
Preding – Deutschlandsberg – Munich – Vienna – Sremska Mitrovica – Belgrade
colluvio CONCERT TOUR 2002
Preding – Deutschlandsberg – Munich – Vienna – Belgrade-Zemun – Belgrade – Sremska Mitrovica
This is how it began…
colluvio CONCERTS 2001
Preding – Deutschlandsberg (The first concerts in the founding year 2001)