Who is able to apply?
Music students from all over Europe and neighbouring countries who have reached an advanced musical and technical standard, as well as specially talented pupils from 16 years and over.
Instruments: Piano, Violin, Viola, Cello
3 Ensembles are formed from the chosen applicants. The candidates make music together as a Piano Trio, Piano Quartet or Piano Quintet.
Anastasia Galenina (22), Hans Christian Aavik (20), Pavle Rakočević (17) playing
Beethoven´s Ten Variations op. 121a
Final concert of the 2023 tour, Belgrade
Primarily the young instrumentalists taking part in colluvio have never made music with one another.
It goes without saying that fixed ensembles, e.g. a piano trio or a string quartet may also register. If a string ensemble is chosen, we would combine it with one of our pianists.
We are always happy when musicians who have taken part want to participate again the following year! Further auditions (video/audio) are however required.
Auditions
Between 9 and 12 candidates are chosen by means of audition.
The colluvio Team is sent many applications from all over Europe and sometimes from further afield. Single candidates playing Piano, Violin, Viola or Cello compete for places. Already formed ensembles also apply.
Video or Audio recordings can be sent. All the teachers will listen to each of these and then judge who may take part.
An audition should convincingly show the applicant's suitability and include both chamber music works and solo renderings.
As many recordings as wished may be offered. If they are not considered to be sufficient for an audition, then more may be requested.
Convincing performance of Chamber Music works is the requisite for a successful audition, particularly in the case of pianists. Solo recordings are of course also very important.
String players:
Chamber Music recordings of 3 or more players (Trio, Quartet, Quintet…); one or two movements of a work or the complete work.
Two contrasting movements of a Sonata, Partita or Suite for Violin, Viola or Cello solo by J. S. Bach. It could also be more than two movements.
Further solo recordings: Obligatory a Sonata for String Instrument and Piano, optionally also a work for String Instrument as soloist with orchestra. The number of movements submitted is left to your choice.
In case our prospective string candidates wish to submit additional recordings of solo works by composers other than J.S.Bach, or Duos for two string instruments or similar offerings, we shall be glad to listen to them.
Pianists:
Chamber Music for 3 or more players (Trio, Quartet, Quintet…); one or two movements of a work or the complete work.
Solo recordings for either piano solo or concerto with orchestra; the number of movements submitted is left to your choice.
In case our prospective piano candidates wish to submit additional recordings, we shall be glad to listen to them; for example Sonatas for piano and one string or wind instrument, or Lied accompaniment. We are particularly interested in Lied accompaniment.
Ensembles:
Ensembles should submit not only Chamber Music recordings but also each member should send in solo recordings as listed for the String Players and Pianists.
It is not of importance how many recordings are submitted; preferably only as many as are thought necessary by the candidate himself/herself in order to provide an impression.
In the long run, each candidate must decide how best to present himself/herself in a favourable light. We also accept applications that are slightly different to those we have suggested.
We prefer to receive recordings that have not been edited – like concert recordings. The recording technique does not have to be of professional quality.
Please send recordings together with a CV by e-mail to office@colluvio.com , as a mail attachment or link, so that they can be sent on to all the teachers.
There is no age limit. Please, however, include your date of birth and nationality, if this is not already included in the CV.
The next project is planned for circa 22.07.-14.08.2024:
The final date for submitting recordings is 15. 02. 2024!
After 15. 03. 2024 each applicant will be informed if he or she has been chosen to participate.
Only then can successful candidates complete their application.
Registration
For the 21-day project the inclusive cost per participant amounts to € 500.-
This includes the fee for the Master Classes, board and lodging at Gut Hornegg as well as board and lodging during the whole tour.
At Gut Hornegg there is no possibility of spending money and all necessities will be provided. Everything is paid for on the tour.
The  subscription of € 500.- (for scholarship holders € 250.-) is to be regarded as a registry fee. The actual costs for each player amount to far more, taking into consideration the exclusive care of 4 teachers for only 9-12 participants and the high expenses on the tour (travel, hotels, restaurants, hire of concert halls, professional recordings…).
Each participant pays for his or her own travel to Gut Hornegg and for their journey home after the final concert.
To avoid misunderstandings:
The total fee is € 500.-. There are no additional costs!

Petar Krokar (24) piano, Frédéric Pouliot (22) violin, Elías Zaabi Sáez (25) viola, Hyunah Pyo (21) cello, playing
Gabriel FAURÉ 2nd Piano Quartet, op. 45, Allegro molto (II)
Final concert of the 2023 tour, Belgrade
Here you can find the WHOLE VIDEO with all movements.
Scholarships
If needed, participants living in countries in Eastern and South-Eastern Europe can apply to colluvio after successful audition for a bursary, which could enable their charges to be reduced to € 250.-.
In order to reduce individual costs, all those taking part are advised to contact the consulate of their home country (in Austria) and try to obtain financial support there.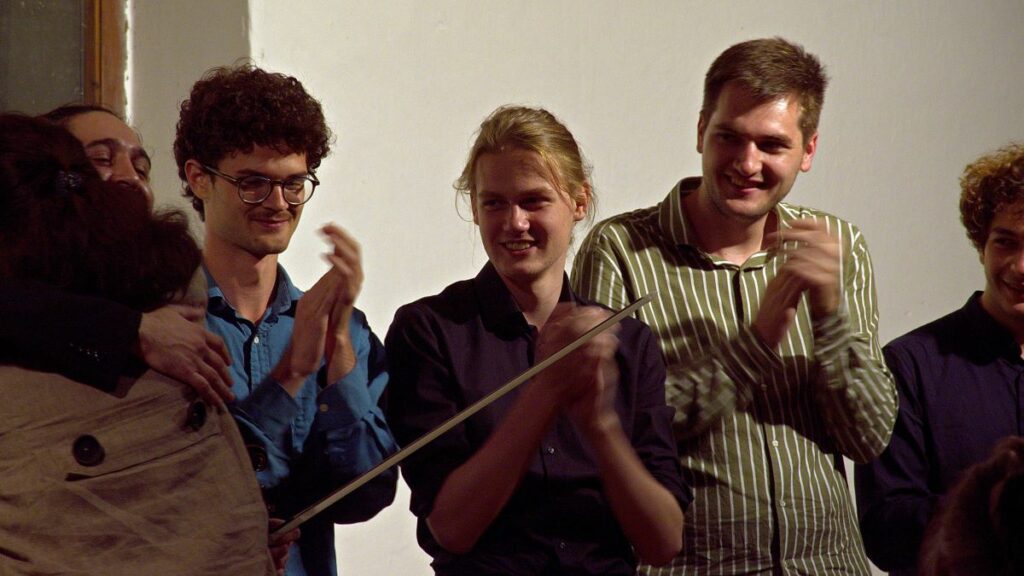 Further, all participants studying in Germany are recommended to apply for free membership of the GVL Berlin.  This organisation subsidises up to 50% of the costs of Master Classes. Also Music Academies are supportive of participation in colluvio courses or are willing to help towards travel expenses.
Final date for registration is 01.04.2024
● Send the application form via post or scan until April 1st 2024.
● Payment of the fee until April 1st 2024.
● Send the "Letter of agreement" by post or scan until April 1st 2024.
Registration Form (English)
Letter of Agreement (English)
---
formular za prijavljivanje (srpskohrvatski)
Anmeldeformular (deutsch)
Transferring the fee
By 01. 04. 2024  the registration fee of € 500.- (or less, if a scholarship has been granted) should be transferred to the following account:
Account title: "colluvio, Verein für Kammermusik und die internationale Jugend"
Raiffeisenbank Preding/Austria
IBAN: AT06 3849 9000 0502 4963
BIC: RZSTAT2G499
If a player who is already registered has to cancel for unforeseeable reasons, the full amount of € 500.- will only be refunded if the candidate in question can guarantee an adequate substitute. If this is not the case, we can only give a refund of € 250.-.
Holders of scholarships who are only required to pay € 250,- towards costs will not be given a refund unless, like all other prospective candidates, they can provide an adequate substitute player.
In such an eventuality we are sure to find a solution if we stay in good contact and communication with one another, regarding this issue, and especially if we notice that the cancelling candidate is making a genuine effort to find an adequate replacement.
Up till now there have hardly been any cancellations from candidates who were already registered.
In case of necessary cancelation…
Due to both the solo rôle in chamber music works and the low number of participants for the many concerts, the musical responsibility of each instrumentalist is naturally of utmost importance. The cancellation of one player would affect not only his or her ensemble members, but also the realisation of the whole project.
If in an orchestra one string player is missing, the concert can nevertheless take place. Not so with colluvio: here each player is a soloist. What would his fellow partners do without him/her?
A cancellation of an already registered participant would have negative consequences on the whole project. The later this news reaches us, the worse it would be. It is only with luck that we could then find a suitable substitute immediately prior to the course.
Participation obliges each player to commit himself/herself to the whole project inclusive of all concerts. It is advised to bring a small supply of emergency medicaments (immune-supportive… if necessary).