"colluvio is more than a Masterclass."
The Workshop for Chamber Music colluvio, open to participants from all European countries, follows up an intensive rehearsal phase with an international concert tour.
Several well-known European youth orchestras have already followed this concept since the 1980s, rounding off their preparation studies with a series of concerts in different European countries. With Masterclasses for Solo or Chamber Music this has not been the case – colluvio fills this gap ….. 
"The European Chamber Music Project colluvio follows up an intensive rehearsal phase with an international concert tour."
"We rehearse in great depth, immersing ourselves completely in the service of the music concerned. Our aim is to strengthen the love of music in our young instrumentalists. They have the opportunity to build up their stage presence in a series of internal private house concerts, followed subsequently with the public performances on tour".
Choice of participants
Since its foundation in 2001, the colluvio Chamber Music Academy annually advertises its work phases and concert tours in the whole of Europe.
Our musicians study at institutions such as the Royal Academy and Royal College of Music, London, the Conservatoire National Supérieur de Paris, the Universities of Music in Vienna, Graz, Salzburg, the Tchaikovsky Conservatory in Moscow, the Music Academies of Berlin, Warsaw, Rome, Budapest, Belgrade …..
There are cooperations with music colleges, academies and conservatories from all over Europe.
Year after year, 9-12 musicians specialising in the following instruments are chosen by audition:
Piano, Violin, Viola, Cello.
After getting to know one another at Gut Hornegg, Austria, they are divided into 3 ensembles and rehearse and study with their new-found colleagues in works for Piano Trio/ Piano Quartet/ Piano Quintet.
Within a space of 10 days the "colluvio Method"  enables them to grow into three harmonious chamber music ensembles, where they gather experience in performance in internal house concerts and prepare themselves for the ensuing concert tour.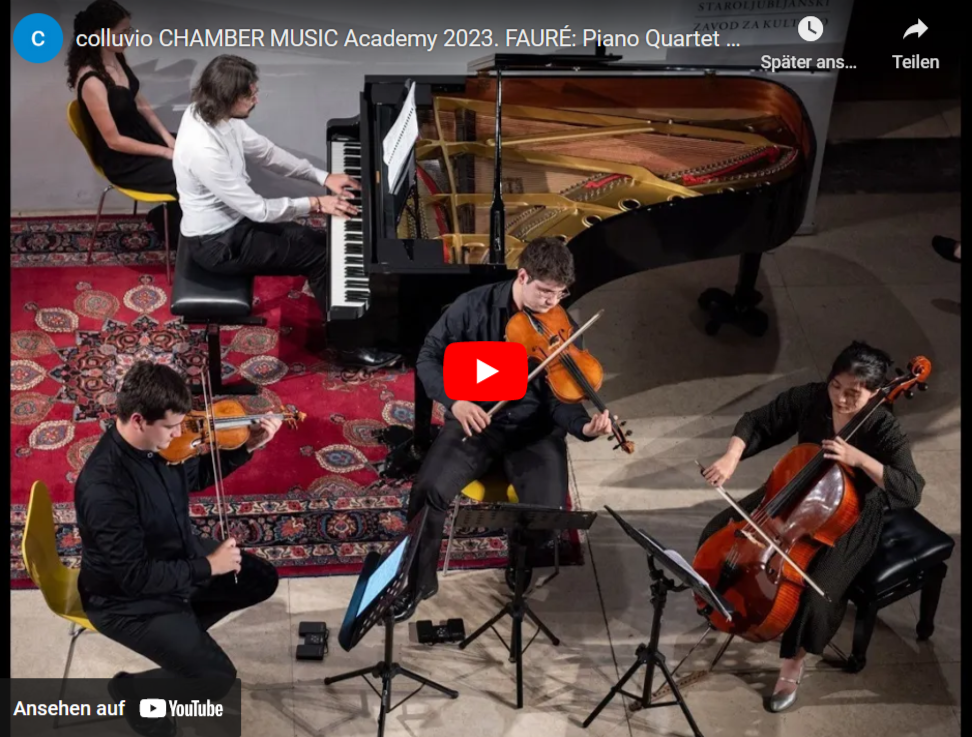 Petar Krokar (24) piano, Frédéric Pouliot (22) violin, Elías Zaabi Sáez (25) viola, Hyunah Pyo (21) cello, playing
Gabriel FAURÉ 2nd Piano Quartet, op. 45, Allegro molto (IV)
Final concert of the 2023 tour, Belgrade
Here you can find the WHOLE VIDEO with all movements.
How the colluvio Workshop functions.
colluvio METHOD
11 days' Masterclasses – 11 days' Concert Tour
Days 1-8
Basic Workshop with the colluvio team:
Yuri Kot (Piano), Olivera Milić-Hirscher (Violin) and Meinhard Holler (Cello) alternate in working with all 3 ensembles.
Days 9-10
Open Workshop
To round the rehearsals off our Guest Tutor Claus-Christian Schuster (Piano) works with every ensemble.
Days 1-11
Stage Training
5 internal house concerts on days 2, 4, 6, 8 and 10 in preparation for the concert tour. On day 11 is the dress rehearsal.
Days 12-22
International Concert Tour
2024: Gut Hornegg – Metlika – Ljubljana – Augsburg – Feldafing – Vienna – Budapest – Belgrade
Exclusive Conditions
The number of participants accepted on the project is limited to 9-12.
The Credo of the colluvio Chamber Music Academy incorporates an intensive, individual approach.
During the whole project, 4 tutors are available for just 3 three ensembles.
That enables the most wonderful chamber music literature to be studied with the necessary detail.
"Our aim is to work with musical depth"
Our musicians value the fact that with colluvio they can immediately put their talent into practice.
From day 1 onwards the focus lies on the concert tour; consideration of the concert platform is of prime importance. All participants are given the opportunity to perform their well-rehearsed works in each of the 8 concerts on tour.
"Focus on the concert platform!"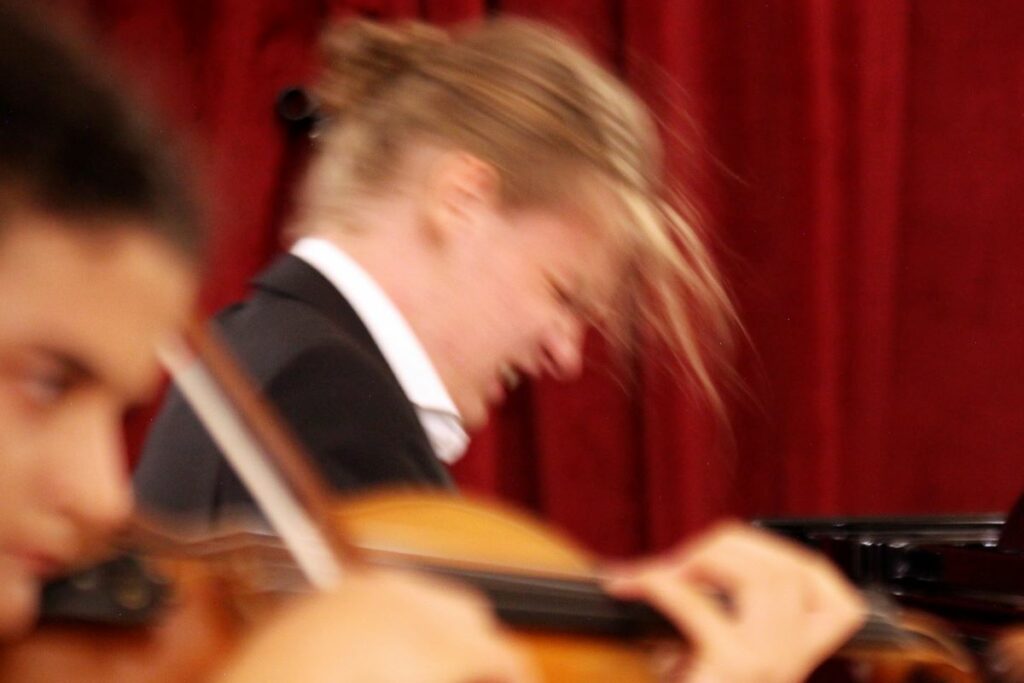 At the colluvio Master Classes the young musicians dedicate themselves to challenging literature, which they present every summer on a concert tour through Europe.
Programme 2024
"On the 100th anniversary of the death of GABRIEL FAURÉ"
(4. XII 2024)
Sonate pour piano et violon No. 1, La Majeur, op. 13 (1875-1876)
Quatuor pour piano, violon, alto et violoncelle No. 1, ut mineur, op. 15 (1876-1883)
Trio pour piano, violon et violoncelle, ré mineur, op. 120 (1923)
Quintette pour piano et quatuor à cordes No. 2, ut mineur, op. 115 (1919-1920)
colluvio 2024 is currently being announced. Following their auditions, the selected musicians will be announced at this point from 15 March 2024.
Review of 2023
The 2023 summer tour included the 3rd Piano Quartet by Felix Mendelssohn Bartholdy, the Piano Trio in E flat major, op. 70/2 by Ludwig van Beethoven and the 2nd Piano Quartet by Gabriel Fauré.
The 11 chosen musicians for 2023 – probably resounding names of tomorrow:
Piano: Tabea Streicher – Petar Krokar – Veronika Voloshyna
Violin: Naz İrem Türkmen – Anna Perl – Frédéric Pouliot
Viola: Nađa Komlenić – Elías Zaabi Sáez
Cello: Clara Eglhuber – Hyunah Pyo – Owen Sørbye Davis

Mieczysław WEINBERG
Piano Quintet op. 18, 5th movement: Allegro agitato
Final concert of the 2019 tour, Belgrade
Anastasiya Sharina (25), Assia Weissmann (22), Sofia Kolupov (22), Kinga Wojdalska (21) and Lucija Mušac (19)
Here you can find the FULL VIDEO with all movements.
West with East, North with South
The Romans used the Latin expression colluvio (confluence) also to refer to peoples of mixed races, probably alluding to those countries not already completely romanised withinin the Empire.
Our interpretation of the word is a family from different nations, all involved in a joint human and musical experience.
Parallel to its high musical ideals and in accordance with the same, colluvio is a project dedicated to bringing people in Europe together.
Its origins resulted from impressions of the tragic happenings in wars between the nations of Jugoslavia. This moving history is told in the impressive ORF- documentary film about colluvio "Music after the War, Kosovo between Trauma and New Beginnings".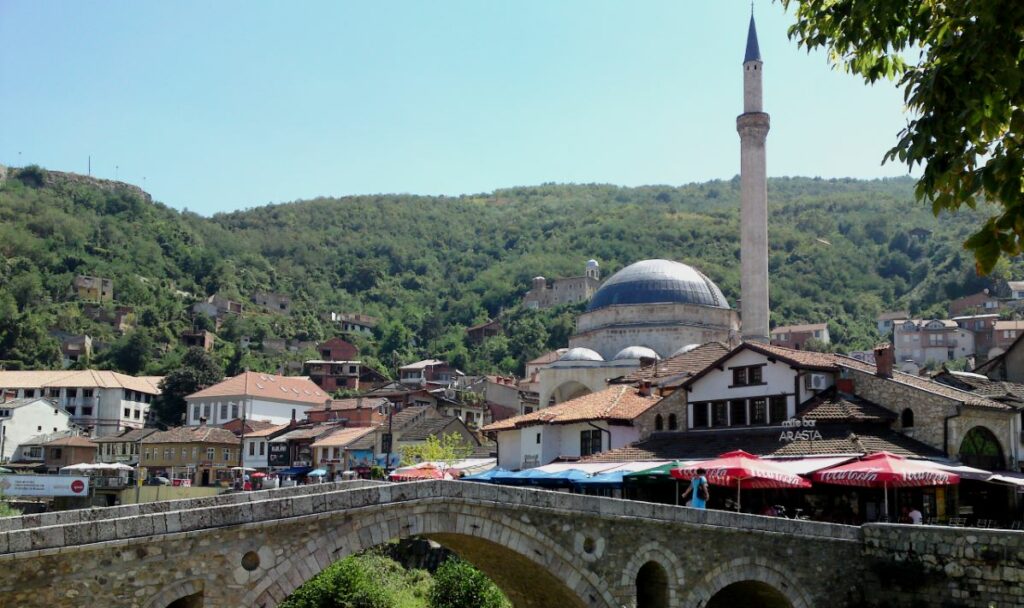 Concert tour 2010/ Prizren, Kosovo: Here one sees the old bridge with the Sinan-Pascha-Mosque, and in the background the burnt down Serbian district with the Holy Saviour Church.
Since then much has happened, colluvio has grown and developed. Understanding between nations through music has remained its central philosophy, even though in the meantime colluvio has gathered in significance far over the borders of its origins and now includes all countries in Europe.
Who can apply?
Music students of a high musical and technical standard from all over Europe and neighbouring countries, as well as specially talented pupils of 16 and over.
Instruments: Violin, Viola, Cello, Piano
Primarily the young instrumentalists taking part in colluvio have never made music with one another.
It goes without saying that fixed ensembles, e.g. a piano trio or a string quartet may also register. If a string ensemble is chosen, we would combine it with one of our pianists.
Auditions
Concerning the next project (22.07.-14.08.2024):
Final date for arrival of recordings is 15th February 2024!
"We are on the lookout for young musicians as of 16 years of age who show a particular interest in playing chamber music with others."