The colluvio Team
The colluvio  team has worked together for many years. It runs the Master Classes and accompanies the young musicians on the tour.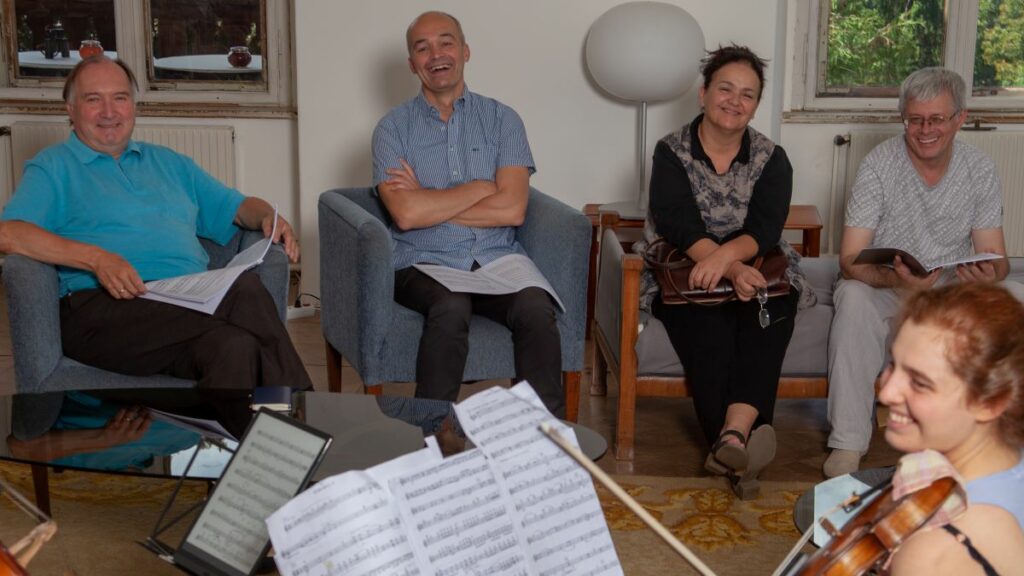 Yuri Kot, Ukraine, Piano, Professor at the Tchaikovsky Music Academy, Kiev
Olivera Milić-Hirscher, Serbia, Violin, Professor at the Special School for Music Talents in Ćuprija (Serbia)
Meinhard Holler, Austria, Cello, private cello teacher in Munich, founder of the colluvio Chamber Music Academy
Over the years this team has developed the traditional "colluvio Method".

Guest Critic:
Claus-Christian Schuster, Piano
Founder and member of the Vienna Schubert Trio and the Altenberg Trio
Substitution of Yuri Kot:
Milana Chernyavska
University of Music and Performing Arts in Graz
"We work in musical depth, placing ourselves absolutely at the service of music. Our wish is to deepen the love of music in young people. In a series of internal house concerts and in the ensuing concert tour their stage presence is trained."
Yuri Kot – Piano
CV of Yuri Kot, English, long version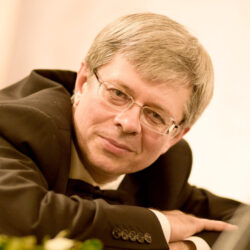 Graduated and finished postgraduate courses at the Kiev National Tchaikovsky Academy of music (professor V.Kozlov's class).
Laureate of the National Lysenko Piano Competition (1988, Kiev), I International Prokofiev Piano Competition (1992, Saint-Petersburg), I International Competition for chamber music performance "Golden Autumn" in category Piano Duo with Irina Aleksiychuk (1993, Khmelnitsky), 45th International ARD Competition  in category Piano Duo with Irina Aleksiychuk (1996, Munich), VI International Murray Dranoff Piano Duo Competition with Irina Aleksiychuk (1997, Miami).
He has performed recitals and play with the famous orchestras of Ukraine, Russia, Germany, Japan, Italy, Spain, Portugal, France, U.S.A and others.
Since 1994 he is a professor of the piano department at the Kiev National Academy of Music (since 2019 – head of piano department №1).
In 1995 was awarded by title "The Honored Artist of Ukraine".
Awarded by L.Revutski National Prize of Ministry of Culture of Ukraine, National Composers' Union of Ukraine and National All-Ukrainian Music Union for concert activities and performing of modern music.
Y.Kot took part in the International music festivals. Among them: "Musiksommer-97" (Dresden, Germany), "Two Pianos Plus" (Miami, U.S.A.), "Modern Music Festival" (Ban'ska Bystrytsa, Slovakia), "Kiev Music Fest", "Music Premieres of the Season" (Kiev, Ukraine), "Regina and Vladimir Horowitz – in memoriam" (Kiev, Ukraine), "Farbotony" (Kanev, Ukraine), Festival of contemporary Krakow composers (Krakow, Poland), Richter-Fest (Odessa, Ukraine), Piano music Festival "Una tastiera per due mondi" (Carrara, Italy).
Member of jury in numerous competitions in Ukraine, Russia, Georgia, Serbia, Slovenija, Macedonia, Croatia, Montenegro.
Hold the master-classes as professor in Ukraine (V.Horowitz master-class, Kiev), Serbia (Kragujevac, Belgrade, Šabac, Niš), Montenegro (Kotor, Tivat), Japan (Tokio, Kioto, Hiroshima), Macedonia (Skopje, Ohrid), Slovenija (Ljubljana), Austria (Graz, Gut Hornegg), USA (Phoenix, Arizona) and others.
Plays often as soloist and a member of chamber ensembles (piano duo, piano trio and many other).
Olivera Milić-Hirscher – Violinist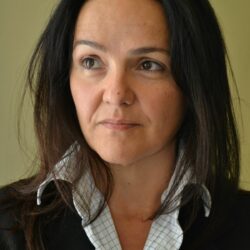 Olivera Milić-Hirscher was born in Cetinje, Montenegro.
She began her musical education at the "School for Music Talent" in Ćuprija, Serbia and later studied with Professor Vladimir Marković at the Music Academy in Belgrade. After being awarded her diploma in 1984 she dedicated the next six years to teaching  in the institution that had first formed her education, the "School for Music Talent" in Ćuprija. In 1990 she embarked on further studies at the Richard Strauss Conservatorium in Munich with Professor Jakob Gilman.
During this time she was a member of "Arpeggione", a chamber orchestra whose chief conductor and frequent soloist was Aleksandar Rudin. Here she had the experience of playing with many famous soloists such as Dmitry Sitkovetsky, Nana Jašvili, Konstantin Lifšic, András Adorján, as well as under the baton of Uroš Lajovic and Saulius Sondeckis. The concert tours gave her the opportunity to perform in many of Europe's famous concert halls.
Since 2004 she has worked as professor for violin in the Music School "Petar Krančevic" in Sremska Mitrovica, Serbia. Her fame throughout the country as a successful pedagogue led to her engagement in 2018 as teacher at the specialist "School for Music Talents" in Ćuprija.
Meinhard Holler – Cello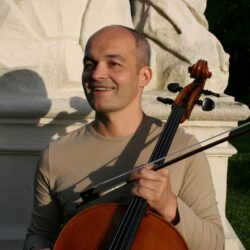 Meinhard Holler was born in Graz, Austria. His musical education started at the age of four. At an early age he won prizes at several  youth competitions. There followed studies at the Music Academy of Graz and at the Richard-Strauss Conservatoire in Munich with Professor Jannis Chronopoulos and Professor Jan Polášek. Thereafter he continued at the Music Academy of Saarbrücken with Professor David Grigorian, for many years assistant to and master student of Mstislav Rostropovich.
Meinhard Holler took part in several chamber music and orchestral courses given by Heinrich Schiff. Master courses followed with e.g. Phillippe Muller, Marjory Cornelius, Paul Tortelier, David Grigorian, Eduard Brunner, Altenberg Trio Vienna, Sergiu Celibidache. He was granted a 'Musikförderpreis' by the "Kulturkreis Gasteig" Munich.
His ensuing concert engagements have taken place with "Cello Mellow", "Juon Trio" (with Slava Cernavca, clarinet and Zoriana Tkachyk, piano), and as a duo – partner with the pianists Yuri Kot, Olga Salogina, Neritan Hysa and Caroline Bergius. With Caroline Bergius (harpsichord) Meinhard Holler has also performed literature for those two instruments. Concert tours with those musicians led him through France, Great Britain, Germany, Austria, Ukraine, Serbia, Croatia, Slovenia …
He dedicates himself full-heartedly to teaching and supporting young people – his students  regularly gaining prizes at competitions. His private cello class in Munich engages in intensive pedagogical exchange with the cellists Boža Saramandić (Serbia), Ivan Kučer (Conservatory of Kiev/ Ukraine) and David Grigorian. He has written abundant pedagogical literature for his instrument, the cello and has been chosen as a member of the jury in competitions. Meinhard Holler holds master classes in Austria, Germany, Serbia, Croatia, Slovenia, Ukraine…
In 2001 he founded and is leader of colluvio, an annual Master Class for chamber music with ensuing international concert tour for music students from all over Europe.
Claus-Christian Schuster – Piano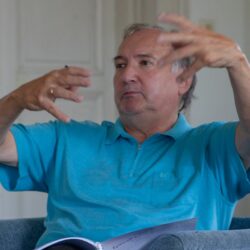 Detailed biography with concert chronicle, discography and texts: http://www.ccschuster.at/
Claus-Christian Schuster (b. Vienna 1952) studied in Vienna, Bloomington, and at the Moscow Tchaikovsky Conservatory with his father, Wilhelm Huebner, Hans Graf, Dieter Weber and Vera Gornostayeva. His meeting with Wilhelm Kempff in Positano has been a lasting influence on his musical development.
A prize winner of numerous international competitions he appeared frequently as a soloist before founding the Vienna Schubert Trio (with Boris Kuschnir and Martin Hornstein) in 1984. In 1993, when Mr. Kuschnir was replaced by Amiram Ganz, the Trio took the name of Altenberg Trio. From 1987 through 2012, when he retired, Mr. Schuster programmed the annual concert series of his trio, which was (and continues to be) the Trio-in-Residence of the Vienna Musikverein. The recordings of the Altenberg Trio (Challenge Records) received the Schumann Prize (Zwickau 1999) and an Edison Award (Amsterdam 2000).
Milana Chernyavska – Piano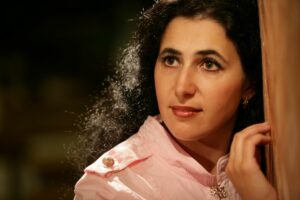 The German pianist with Ukrainian roots Milana Chernyavska has built up a remarkable career and is now one of the most significant pianists and pedagogue of our time.  Many critics acclaimed her a major talent and Alfred Brendel stated "When you listen to Milana Chernyavska, you can feel what a complete happiness is."
Milana Chernyavska has played in many significant concert halls such as the Musikverein in Vienna, Concertgebouw in Amsterdam, Berlin Philharmonic Hall,  Suntory Hall in Tokyo, Munich Hercules Hall, Wigmore Hall in London, Carnegie Hall in New York, St. Philharmonie de Saint Petersburg and took part in many concert tours and festivals in Europe, United States and Asia. She regularly plays at such festivals as Lucerne Festival, Piano Festival Ruhr, Salzburg Festival, Rheingau Music Festival, Festival de musique du Schleswig-Holstein, Festival Mecklenburg-Western Pomerania, and the Schwetzingen Festival.
As a soloist she has performed with many great orchestras and played many solo recitals which were enthusiastically welcomed by the audience and press. During the Piano Festival Ruhr she received the Alfred-Brendel Prize.
In addition to her solo work, Milana Chernyavska is also very successful in chamber music. She regularly gives concerts with well-known artists such as Julia Fischer, Lisa  Batiashvili, Daniel Müller-Schott, David Garrett, Daniel Röhn, Rudens Turku, Ana de la Vega, Arabella Steinbacher, Sebastian Klinger, Maximilian Hornung, David Frühwirth, Susanna Yoko Henkel, the Vogler Quartet and Bassion Amorosa, with whom she founded the Milander Quartet . After this quartet debuted in the Munich Philharmonic Hall, journalists wrote: "Four excellent instrumental soloists found perfect cooperation.  In such a short time since they started playing together, they appeared as the one of the leading chamber music ensemble". 
Milana Chernyavska has recorded over twenty CDs for well-known labels as DECCA, EMI, Sony, Naxos, Claves, Divox, Genion, Avie Records, Ars Musici, and Öhms Classics. Many of her CDs won international awards such as Diapason d'Or, BBC Music Magazine Prix, "IRR Outstanding", and the Pizzicato Super Sonic Award.
She also received the most important media award in Germany – the "Echo Prize" – in the category "Classic without Borders".
As a versatile artist, she works as a piano professor at the University of Music and Performing Arts in Graz. Since 2010 she has been a professor at the International Music Academy in Liechtenstein. Furthermore, she leads numerous international masterclasses worldwide and is an acclaimed juror at many important competitions such as ARD in Munich, Busoni in Bolzano, Mozart Competition in Salzburg, Santa Cecilia in Porto or Blüthner Golden Award in Vienna.  Her students are regularly winning first prizes at prestigious competitions such as Santander, Busoni, Maria Canals, Vendom Prize, Malta Piano Competition and many others.
Milana Chernyavska studied with Irina Lipatova and Valerij Sagajdachnij at the State Tchaikovsky Conservatory in her homeland, Kiev. At age 7, she played her first concert in the Great Philharmonic Hall. She completed her Master Studies at the University of Music in Munich with Prof. M. Höhenrieder and Prof. G.Oppitz.  Her important musical influences and inspirations are Alfred Brendel, Ana Chumachenco and Dmitry Bashkirov. She has many artistic achievements was awarded numerous prizes at national and international competitions in Paris, Florence and Kiev.  One of her biggest achievements was a cultural award from her home country – Honored Artist of Ukraine – personally presented to her by the President of the country.